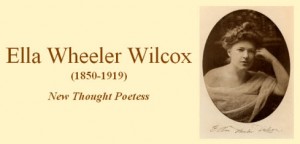 God and I in space alone
And nobody else in view.
"And where are the people, O Lord!" I said.
"The earth below and the sky o'erhead
And the dead whom once I knew?"
"That was a dream," God smiled and said,
"A dream that seemed to be true,
There were no people, living or dead,
There was no earth and no sky o'erhead
There was only Myself in you."
"Why do I feel no fear," I asked,
"Meeting you here in this way,
For I have sinned I know full well,
And there is heaven and there is hell,
And is this the judgment day?"
"Nay, those were dreams," the great God said,
"Dreams that have ceased to be.
There are no such things as fear or sin,
There is no you-you have never been-
There is nothing at all but Me."
Isn't Truth absolutely SIMPLE!
Ella has long been my favorite female poet…her poems radiate Truth in the simplest of terms….
The day must come when "fear and sin" will have no meaning to you anymore. When you begin "seeing," there will be no divisions…you will know everything as ONE MOVEMENT forward…forever evolving.

And, you will "see" things perfectly…
"Be still and know that I am God"
Be grateful for all things…for all things…when you trace them back to their very beginnings…past molecules and atoms…past quantum particles to their humble start you "see" that everything comes from the same source.
There is only ONE….Quit labeling things.
And Love….
Kathy